Home & Synopsis/Status Reports PURPOSE & METHOD Who was Carl Sharsmith? Why name a Yosemite feature for Carl?/Origin of Proposal Which feature should be named for Carl? How can a feature be named for Carl? Summary of Supporting Statements Contacts/Resources Webmaster Search Form
Use of this site means you accept its terms and conditions.
PURPOSE & METHOD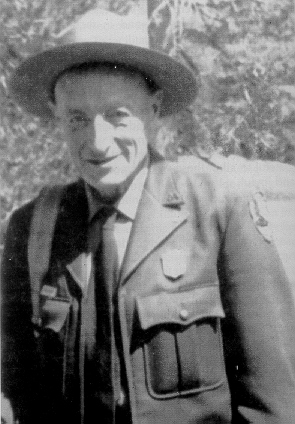 Photo of Ranger-naturalist Carl Sharsmith, 1990, by Allan Shields. Courtesy John Sharsmith and Allan Shields, Climb Every Mountain: A Portrait of Carl Sharsmith. Permission to reproduce received from Allan Shields, 4/20/06.
PURPOSE OF WEBSITE
This website has a single purpose: to propose a landscape/map feature of Yosemite National Park be named by the Board on Geographic Names for Carl W. Sharsmith (1903-1994). No landscape feature is formally named for Carl in Yosemite or elsewhere, although there is a peak in the park that has been called Sharsmith Peak. This peak is proposed to be formally named Sharsmith Peak and thus to appear as such on federal maps.
METHOD
A committee of persons with Yosemite backgrounds has formed to implement the above purpose. See Contacts/Resources, with Bill Jones as the lead.
This website has been developed to communicate background information on Carl Sharsmith and the origin of the proposal to name a Yosemite landscape feature for him, as well as the reasons for it. A collective approach to presenting this naming proposal is considered the most likely to be effective, and so persons and organizations who might have an interest will be informed of the proposal and invited to send supporting statements. These will be collected and forwarded with other materials to the Board on Geographic Names (the official United States naming body for place names that show in federal publications and on federal maps) with the proposal form that the board prescribes. Thus this website will serve as a means to coach effective ways to develop supporting statement within the context of the board's policies. For instance, the board has specific policies regarding commemorative names, naming unnamed features/renaming named features, names in wilderness, long names, and more. The website, with editing and addition of the submittal form, transmittal letter, and hard-copy supporting statements, will be printed to form the basis of the proposal. Once the proposal is received by the board, the board posts the proposal for public review and solicits comments from government agencies, societies, and individuals. The naming committee intends at that time to inform its own list of contacts that the proposal is under active review by the board (see draft of proposed e-mail). Additional comment from naming supporters during this formal review process would indicate active interest and may be vital, as the board may receive negative comments as well.
Funding
It is envisioned that the Name4Carl organization will not require funding. Correspondence will be conducted by e-mail and via the discussion forum on this website or by individuals providing their own postal or telephone expenses. The domain name and website space are donated by a committee member. No travel or office costs and no group meetings are envisioned. Should an expense become necessary, for instance, to present a proposal in Washington, D.C. to the Board on Geographic Names, funds may then be sought, although a person from that area may also be solicited to attend the board's meeting. No individual shall benefit financially from the proposal. If the organization has any assets at the time of its cessation (not planned or expected), they will be donated in Carl's memory 1/2 to the Carl Sharsmith Herbarium at San Jose State University and 1/2 to the Yosemite Association.
Disposition of materials
When the website has served its purpose to name an appropriate feature for Carl, consideration will be given to recording its content in an appropriate depository(ies), and then the website will be discontinued. It is possible none of the materials will be preserved.
---
This "Purpose & Method" page last modified 11/24/2006: \name4carl\n4cpurp.htm.
Home & Synopsis/Status Reports PURPOSE & METHOD Who was Carl Sharsmith? Why name a Yosemite feature for Carl?/Origin of Proposal Which feature should be named for Carl? How can a feature be named for Carl? Summary of Supporting Statements Contact/Resources Webmaster Search Form